Ranata the Frog and the Broken Forest
In this little game you are helping the little witch that summoned you. Find the ingredients needed on the top of the trees, bring them in order to get more time.
Move with the keyboard arrows, and jump with X Key.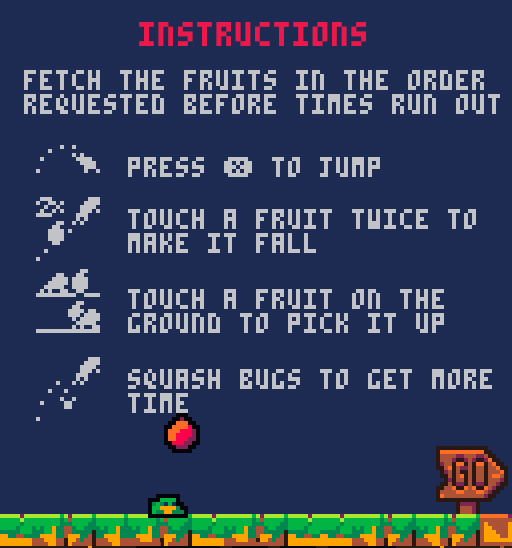 If you enjoyed the game, please consider donating, i'm in dire need of a job.

Purchase
In order to download this game you must purchase it at or above the minimum price of $1 USD. You will get access to the following files:
Comments
Log in with itch.io to leave a comment.
Nice work. You really captured a unique platforming feel with the frog.
Great game, great controls, great challenge.
Nice looking with good crontrols, although maybe a little too slippery. I quit after level 15 because it wasn't getting more challenging. Fly combos are fun!
thanks Alias, i'm made some adjustment in the difficulty. I was aiming for an slippery Frog, is it too much?
Really cool level design, the difficulty also increases gradually which doesn't seem overdone, just the perfect combination of art and maneuverability.
This is a nice game.
Thank you very much, did you reached the bonus level?
No I didn't. I just played 4 levels and then wrote this but I certainly am planning to complete the game today :)
Thanks, let me know how far did you get, i'm still considering adjusting the difficulty.
Reached level 5 after quite a few tries but sometimes it gets a bit annoying when the fruit needed is really far away but still its not super hard. Its really good as it is. Also I'm not a very good gamer but I have played a lot of platformers and this is a nice game.
Also I'm really enjoying this playing on my phone. Thanks for that.
Interesting concept and visually beautiful :)
thanks Iván i hope you enjoyed, how far did you get? I m still adjusting the difficulty